The 2nd DADA happening in Die 2017. A film by Dietmar and Peter.
In 1917 Marcel Duchamp took a step which was of breath taking interest for art in general and for mankind in particular: he purchased a fountain in a DIY superstore, tilted it and signed it R.MUTT.
trio27 picked up M.D.s idea and celebrated this anniversary in 2017, again in the Cafe Voltaire in Die, southern France.
A few details have to be mentioned. M.D. didn't speak English too well, Peter found out in years of research on this issue, nobody knows today. But as everybody knows M.D. liked rubber dolls. Again nobody knew ever that he called them »Ready Maids«. So trio27's mission was to clean up history about a translation error with big effects. Ready Mades don't exist! See how trio27 dealt with this.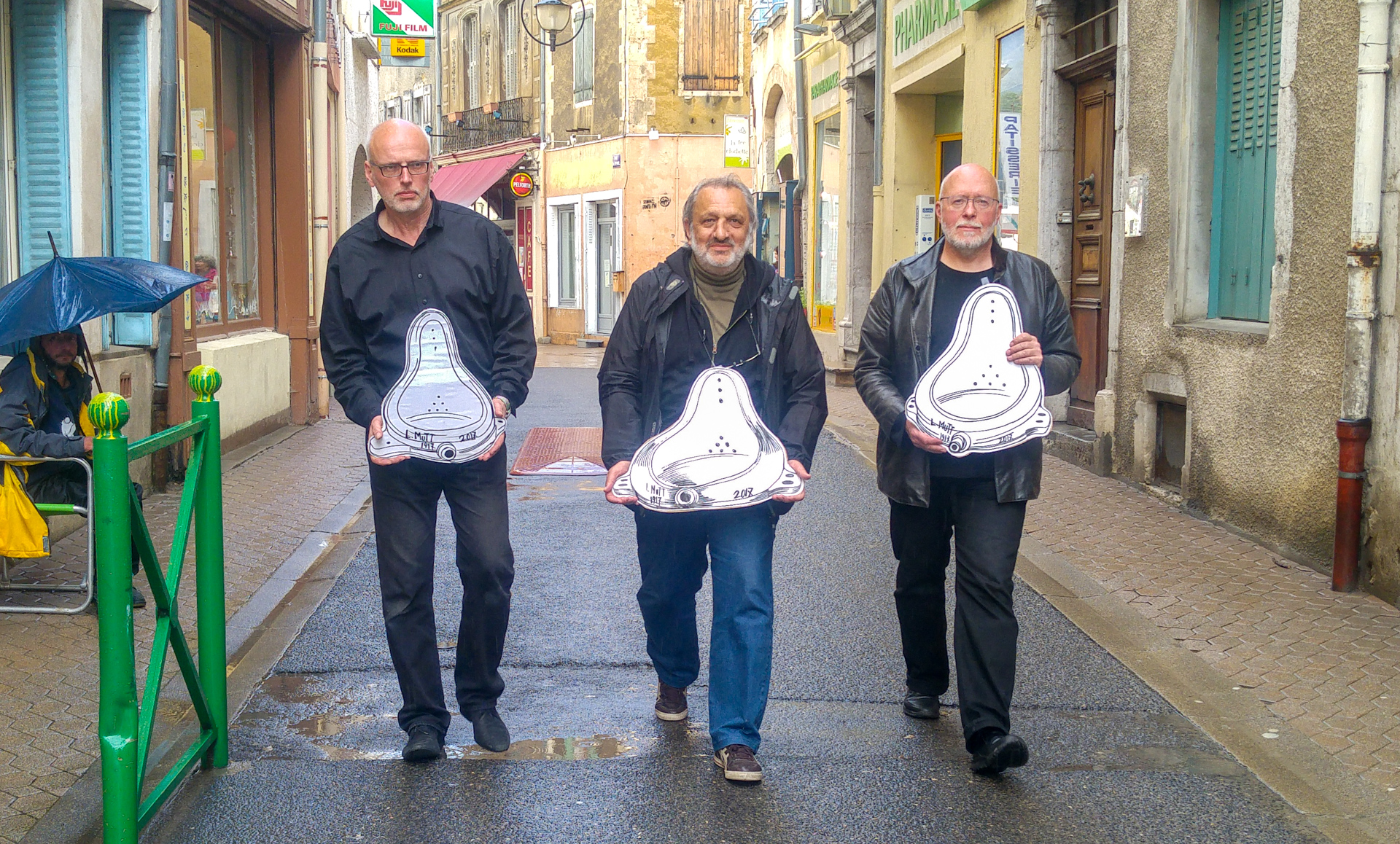 Peter is back in the grid, catching up.
On one single day in may 2017 Dietmar tested these fountains in different art museums of Cologne and took Polaroids of them: Museum Ludwig, Museum of East Asian Art, Rautenstrauch-Joest Museum, Museum of Applied Arts, Wallraf-Richartz Museum, Romano-Germanic Museum, Kolumba …
You will find it out.
The »Lunyala Trio« plays »Die Totenklage« of Hugo Ball.
In order of missioning the trio27 view on DADA in the world, Dietmar bundled up the DADA altar we created for the happening at Cafe Voltaire in 2015 to start a long journey.
His first stop was the break of a concert in Rotterdam, where Dietmar's »Lunyala Trio« – also familiar with DADA content – played the Hugo Ball piece »Die Toteklage«.
To be continued …
The 1st DADA happening in Die 2015. A film by Dietmar.
In 2015 we celebrated the 100th annivesary of DADA in the befitting manner of a happening in the »Cafe Voltaire« in Die, southern France.
To understand what we contributed to this birthday, please have a look at the video and the photographies. If you have any questions, don't ask.