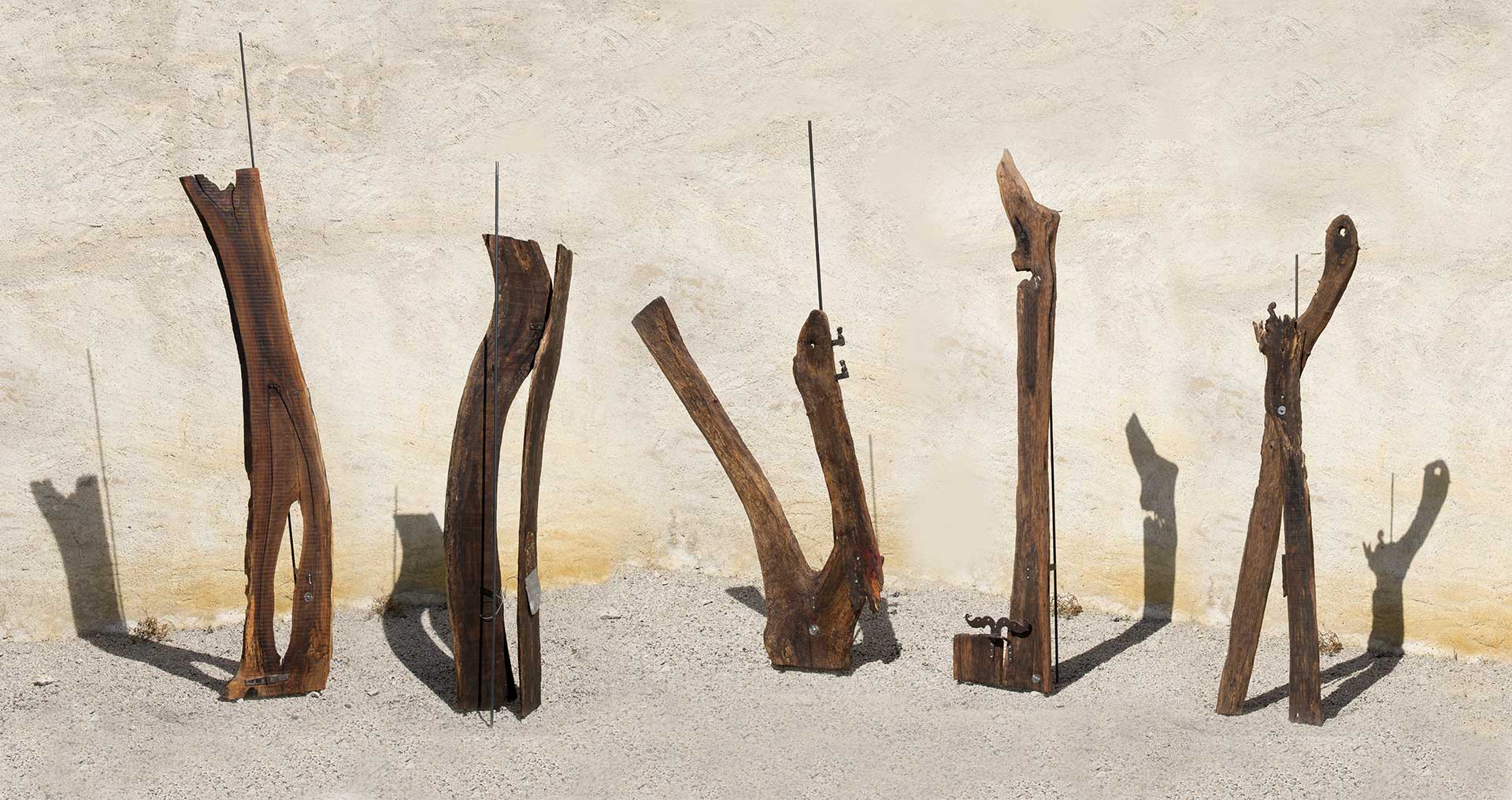 5-day project »The BOYz« by Peter, an idea of Vazo and Peter.
Rocket Bell or The Boyz
Vazo had the idea to invite Peter in the spring of 2012 to come to Recoubeau for a residency of one week to work on a sound sculpture project, they have been talking about the year before, when they joined the "Festival de L'Arpentier" in Les Adrets. There Peter also built a sound sculpture with material he found there as a work in progress.
Peter found plenty of material in the backrooms of the convent's workshop, he was working in. Within 5 days he created 5 sound sculptures in a technique he prepared before in his Atelier in Leverkusen. They are all equipped with  contact microphones so that they can be played over an amplifier.
Dietmar was also in Recoubeau at that time doing concerts with the Moscow based violinist Alexei Aigui in the area and also in the convent. Looking at the "boygroup" waiting in the courtyard ready to be photographed, they decided to do a concert with sound sculptures and violin in the abbey of Valcroissant nearby, and so they did.
The Boyz are the basis for more projects the three did together, as you can see on this page. And they are on tour for concerts together with Dietmar and Peter from time to time.
Liquid Image »Boyz« by Peter, soundtrack Dietmar.
Concert with Alexei Aigui, violin and Dietmar Bonnen, playing the Boyz..
The Boys
Vazo created frottages of the Boys and added drawings in August 2017.
Frottages, drawings, text on paper
DIN A0, August 2017
Remote Frottages
Peter created remote frottages of the Boys over a distance of 1.000 kilometers; he was at home in Leverkusen and the Boyz still in Recoubeau. Then he sent prints of them to Vazo who added sounds in his LinArt technique.
This became the Basis of further cooperations, also with Dietmar.
Prints, LineArt, watercolour,  on paper
DIN A3+, 2013
Sound Cuts
Sound Cut derives from sound sculpture and woodcuts. Peter created these virtual woodcuts on the basis of his photographs of the Boyz and Vazo's frottages of them.
Digital photography
1080p, 2014